Our Turbo Insect Trap efficiently protects you from insects of any kind.
The strong airflow of a fan sucks in the pests and blows them into a collection container where they dehydrate. Beneficial insects can be released when needed.
As a fan insect killer and insect trap with fan technique, the trap attracts nuisance visits such as mosquitoes, flies, gnats, wasps and moths with the help of a UV illuminant, a UV lamp. Then, when the insect comes closer, the suction of the fan does its job. It draws the pests into the interior of the insect trap, into the so-called insect holding area.
There they can be selectively released again, or the pests can be left in the device a little longer, so the permanent draught of air through the fan dehydrates the bodies of the pests and they are killed. The container must then only be emptied.
| | |
| --- | --- |
| Article number | Price |
| Article number 8132MS | Please submit a quote for a price |
| Spare tubes: Article number 8332 | Please submit a quote for a price |
Shipping is from 3 piece! From an order value of 750€ the shipping costs are waived. We are also happy to advise you about accessories and replacement tubes.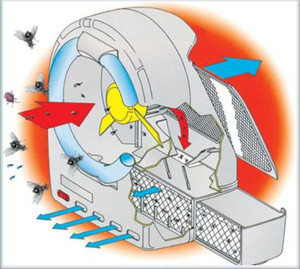 Product details:
Lockable collection tray for carefree emptying
Effective range 10 – 12 meters
Connection 240 V / 50 Hz
Light source 32 Watt
Dimensions: W 24.5 cm x D 22 cm x H 34 cm
Use as a stand-alone unit or for wall mounting
Integrated thermostat to protect against overheating
Special screen on the motor to protect insects (parts)